TM113 is 0-10V dimmer independently developed by our company, which integrates WiFi dimming and 0-10V dimming. Dimming function of TM113 is more powerful, and more flexible to use. when using, you do not need to switch wireless networks, it is more convenient to be on internet. Upgrade software integration WiFiManager function makes network configuration of TM113 more convenient, you can independently choose wireless network just by mobile phone, no need to use the computer. Combined our independently developed mobile software Touchhome with controller, which makes TM113 more convenient to control. It adopts capacitive touch chips, achieves precise dimming, hardware layout is reasonable, can reduce trigger which caused by mistake. It provides more comfortable and convenient, safer intelligent lighting control than traditional lighting control, which gives user a new comfortable lighting environment.
Standards and Certifications







Technical Parameters
1. Software technical parameters
1. Name: Touch Home+
2. Runtime platform: ios (iphone,ipad), Android (phone,pad) equipment must have WiFi function.
3. Language: English, Chinese
4. Category: communication
2. Touch panel dimmer technical parameters
1. Working voltage: AC90~240V / 50-60Hz
2. Working temperature: -20-60℃
3. Working power consumption: <2W
4. Dimming method: 0-10V signal output dimming
5. Output power: <200W (Load power of 0-10V dimming driver)
6. Controller weight: 160g
7. Gross weight: 221g
8. External dimension: L86 * W86 * H37 (mm)
9. Packing size: L90 * W90 * H40 (mm)
System Application Diagram
When there are multiple dimmers in user's wireless network, the system structure is as shown below. User can intelligently control these dimmer through "TouchHome". In a control system, it can accommodate multiple dimmers, about control mode, please refer to "TouchHome" software instructions.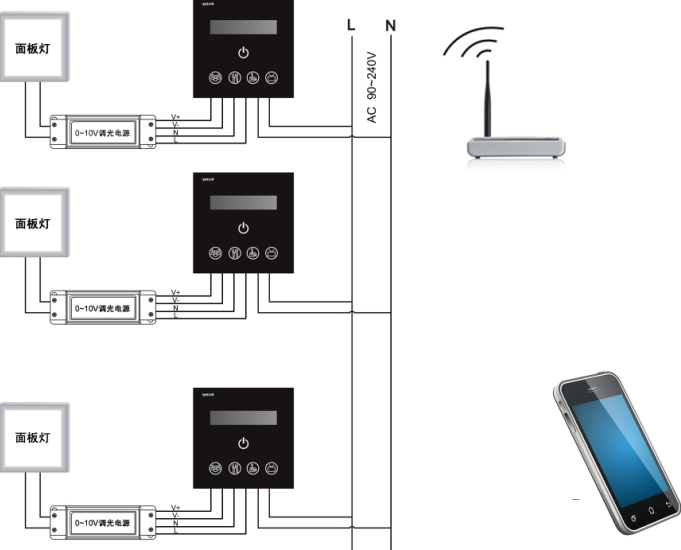 Note: the dimmers in the diagram is connect with external power supply, output AC80-240V of TM113 is not enabled, and can also provide AC90-240V power supply for external device.
Notice
1. Please don't install dimmers in a seal off , high magnetic field ;
2. In order to reduce the risk of fire disaster and device damage caused by short circuit , please make sure correct connection;.
3. Installation position of dimmers should be as near as possible to the router so as to ensure normal controlling;
4. Any problem , please do not open the shell of dimmers at will.
5. This manual is only applicable to this model of dimmers, if there is an update without prior notice.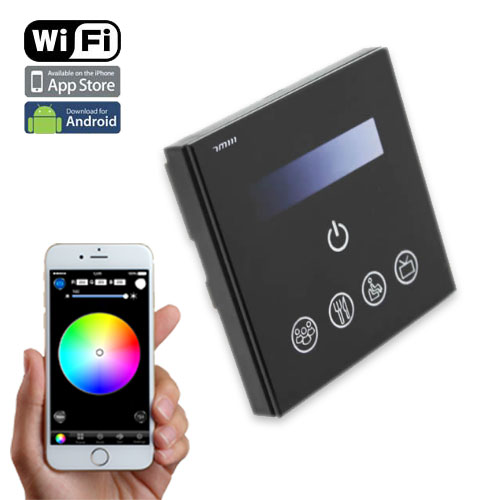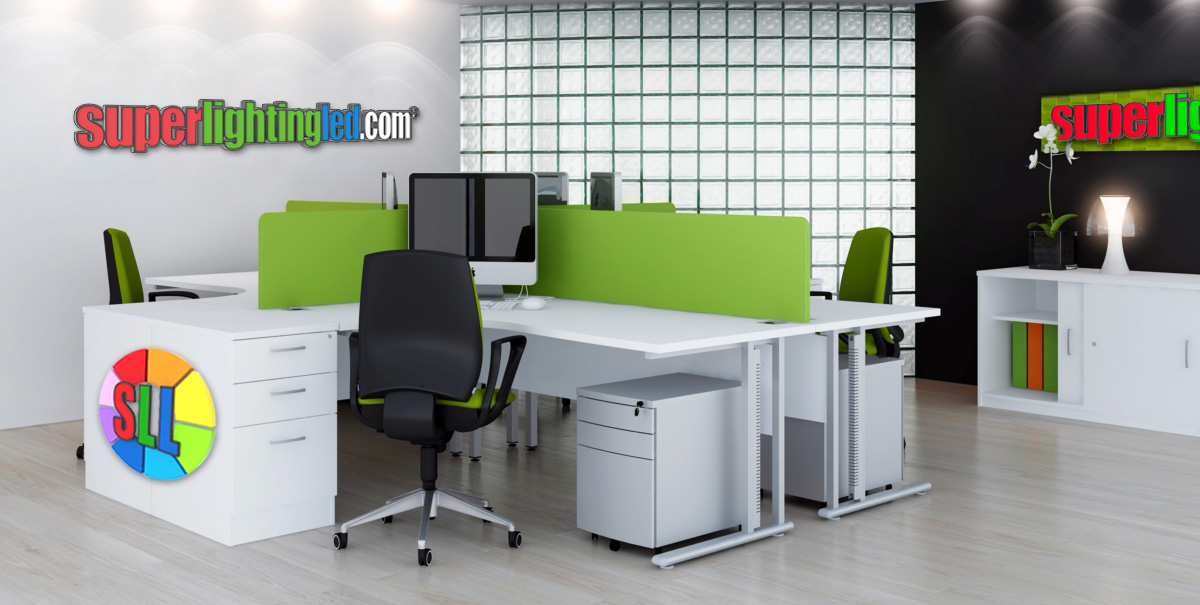 . Guided by a belief that LED lighting would be an integral part of everyday life's illumination, superlightingled.com came into LED industry and keep up with the advanced technoloty.
. We are committed to sales flexible single color,RGB, programmable pixel full color led strip and the accessories, LED controllers, dimmers, amplifiers, power supply are the main products.
.Superlightingleds.com founded in 2011, 5 years' development, our team is becoming stronger and stronger. we provide quality LED technology, great customer service, and superior technical support to our customers. superlightingled is your reliable partner for LED technology.
. If you are looking for high quality LED light Series or energy saving lighting solution, please do not hesitate to contact us, we are always more than happy to help in any way we can.at superlightingled offer LED Lighting for Everything.

Single Color Flexible LED Strip Lights Project Display

Color Change RGB Flexible LED Strip Lights Project Display

Programmable Pixel Dream Color Flexible LED Strip Lights Project Display