LED-WiFi controller is following the traditional with infrared, RF technology controller foundation, it is birth of market and customer's demand, it is one type controller which integration the newest wifi technical in the market. It makes the LED control more convenience, more hommization. We can use an Android system or IOS system mobile phone to install control software, then it can control LED, this is the wishes of every customer.
Use WiFi technology can make our control range more wider, can get rid of narrow space constraint, in building can control more than 50m, in outdoor can control more than 100m.
In the condition of not use the mobile software, also can use the remote control to control, very convenience, bring many choices for you.
Standards and Certifications







Technical Parameters
1. Remote control technical parameters
1:Working temperature:-20-60℃
2:Power supply method:AAA*3
3:Supply voltage:1.5V*3
4:Standby power:0.015mW
5:Standby current:3uA
6:Working current:200uA
7:Emission current:10mA
8:Remote control distance:about 20m
9:Standby time:6 month
2. Software technical parameters
1:Name:Magic Color 1.0
2:Runtime platform:Android version support Android system(better one can support
Samsung, HTC), IOS version support IOS system, equipment must have WiFi function.
3:Byte: Android version(622K)、IOS version(581K).
4:Language: English
5:Category: communications
6:Free, green, no plug-ins
3. Controller technical parameters
1:Working voltage: DC5--24V
2:Output control: can flexible control 3 channel, 2 channel, 1 channel LED lamps.
3:Output current: 4A*3
4:Connect mode: common anode
5:Packing dimension: L215*W165*H55(mm)
6:External dimension: L107*W65*H30(mm)
7:Net weight: 340g
8:Gross weight: 480g
9:Receiving sensitivity: 802.11b DSSS(-5dBm),802.11b CCK (-10dBm),802.11g
OFDM(-15dBm)
Explain installed hardware
Install power supply and LED equipment
This connector structure belong to drawer structure, the device interface of power supply and LED is together, four interface one the left side (3、2、1、V+)is connect led equipment,the fifth interface is connect the anode V+ of power supply, the sixth interface is connect the cathode V_ of power supply. According to the rated voltage of led lamp, we supply power to controller ,and the rated voltage of controller is 24V. As follows: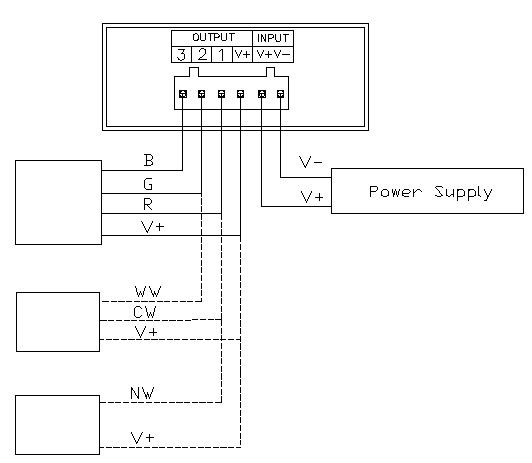 2. Connect three channels LED instruction
When connect three channels LED, you should put the Dream Color software switch to CD mode to use,only under this mode,you can control the LED's color,brightness and speed.Color disk adjust the color(Adjust process can be seen in the upper left corner R, G, B numerical with change),speed/brightness item adjust speed and bright("M"set the LED dynamic effect,"M"adjust the LED dynamic change.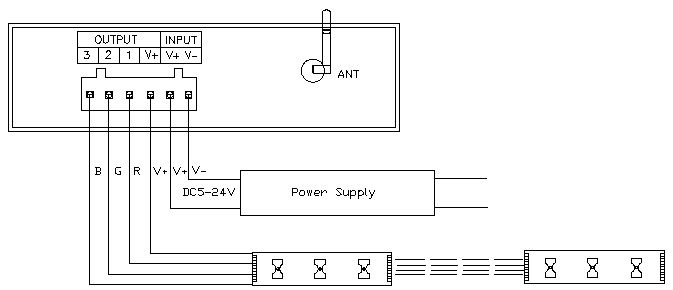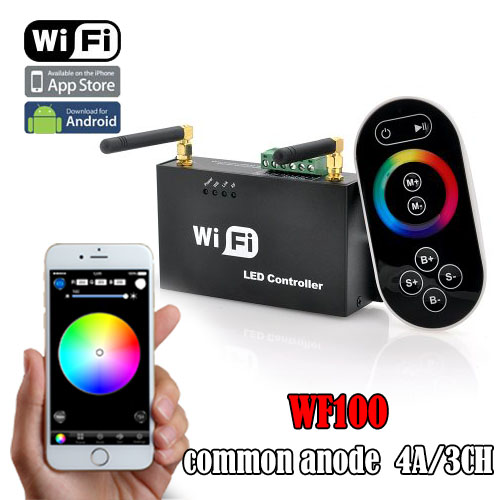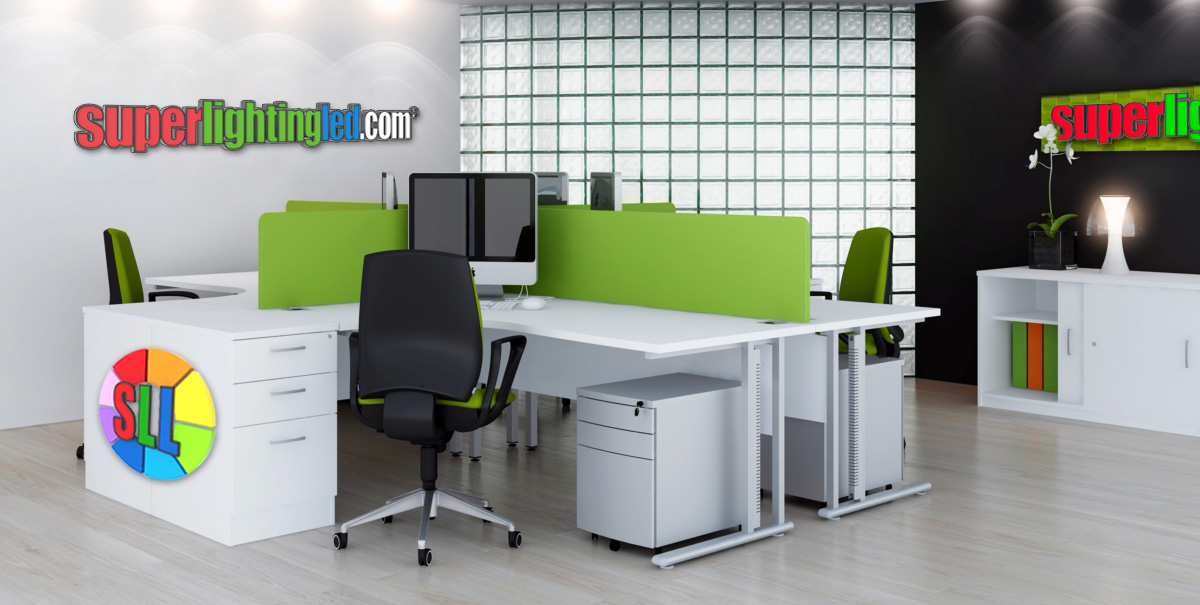 . Guided by a belief that LED lighting would be an integral part of everyday life's illumination, superlightingled.com came into LED industry and keep up with the advanced technoloty.
. We are committed to sales flexible single color,RGB, programmable pixel full color led strip and the accessories, LED controllers, dimmers, amplifiers, power supply are the main products.
.Superlightingleds.com founded in 2011, 5 years' development, our team is becoming stronger and stronger. we provide quality LED technology, great customer service, and superior technical support to our customers. superlightingled is your reliable partner for LED technology.
. If you are looking for high quality LED light Series or energy saving lighting solution, please do not hesitate to contact us, we are always more than happy to help in any way we can.at superlightingled offer LED Lighting for Everything.

Single Color Flexible LED Strip Lights Project Display

Color Change RGB Flexible LED Strip Lights Project Display

Programmable Pixel Dream Color Flexible LED Strip Lights Project Display