Universal DC12/24V 24 amps total Red / Green / Blue / White ( RGBW ) LED WiFi Compatible Controller with hand held RF 4 Zone Touch Color Remote. Can control any 12/24V DC RGBW color change LED tape light products. Use to control up to four separate "zones" of RGBW LED strips that will be linked and controlled by one or several wireless remotes or smartphones with the Wi-Fi LED Controller Hub. Synchronization function allows single remote can control an unlimited number of receivers. Color selection wheel provides thousands of options from pure white mode and 19 dynamic color-changing modes with speed, brightness and ON / OFF controls. This system is a high-performance RGBW led touch remote controller, adopting the most advanced PWM control technology, controlling all RGBW led products with Five lines and four circuits( common anode),owning 640 thousand colors and 20 automatical changing modes to choose. Also, It has the memory function(that is to say, the previous settings will be resumed when power on again). It is widely used in led RGBW LED strip light, led module and so on.
With the technology of the 2.4G high frequency wireless remote control, it has the the characteristics of low power consumption, long distance transmission, and strong anti-interference ability ,high speed telecommunications, etc. The remote looks fashionable and elegant , with simple and practical functions of color changing and brightness dimming, the capacitive touch screen design makes the remote easy to use . The modular design and easy screwed terminals enable the controller easy to match with all kinds of led light products. Radio frequency remote control works through walls with range of about 100 feet.
Must be paired with WiFi LED Controller Hub(search CONRGB-WIFI-08 on superlightingled.com) for adjusting all control functions using Smartphone or Tablet running Android or iOS using free app 'WiFi Controller' .
Standards and Certifications








Product Specification
Controller
Working temperature: -20-60℃
Supply voltage: DC12V-24V
Output: 4 channels
Connection mode: common anode (+)
Net weight: 186g
Static power consumption: <1W
Output current: <6A (each channel) 24A Max
Output power: 12V:<288W, 24V:<576W
IR Remote Control
Power: AAA battery*2pcs (not including)
Fabrication processing: Multicolor printing & UV varnish
Functions: color changing and brightness dimming
RF Remote Control
1. Master On(–)/Off(O)
Acts as a master On(-)/Off(O) control for all zone-linked RGBW lights. Also activates the
"Master" function, which allows the remote to control the RGBW lights of all zones. If a zone is
currently active, pressing the master On(-) button restores the "Master" function to the remote.
2. Color Selection Ring
Directly selects color along a circular spectrum. To obtain white light only, keep the "Zone On" (|)
button depressed until the light changes to a steady bright white.
3. Selection LED Indicator
Flashes once to indicate when a command has been selected.
4. Brightness Touch Slider - Increase(Right Side)/Decrease(Left Side)
Increases(right side) or decreases(left side) the brightness level. Changing the active mode
resets the brightness level to full.
5. Mode Start/Scroll(M)
Modes feature different color combinations, light transitions, and patterns, with 9 distinct modes.
This button initiates the Mode function and scrolls through the modes in ascending order.
6. Mode Speed - Increase(S+)/Decrease(S-)
Increases (S+)/decreases(S-) the tempo of the mode pattern currently active.
RBGW Fade In/Out Red, green, blue and white fade in/out in a set cycle.

Color Flash Red, green, blue, white, purple and yellow ash in .

Disco Red, green, blue, white, purple and yellow cycle in rotation with ashing transitions.

Red Fade In and Flash Red brightens to full brightness, then ashes 3 times.

Green Fade In and Flash Green brightens to full brightness, then ashes 3 times.

Blue Fade In and Flash Blue brightens to full brightness, then ashes 3 times.

Color Fade In/Out and Flash Multiple colors fade in/out and then ash randomly.

3 Color Change with Fade In/Out Multiple colors cycle with 3 smooth color changes followed by fade in/out.

White Fade In/Out White ashes continuously
7. Zone On(|)/Off(O) - Zones 1-4
Allows up to four "zones" (i.e. channels) of RGB(W) lights to be separately linked and controlled by the remote. Pressing one of the Zone On(|) buttons activates that zone; commands will affect only lights in that zone. Once linked to a zone, lights remain linked until they are unlinked. Steadily depressing the Zone On(|) button restores the lights in that zone to white.
Linking Lights to Remote Zones
RGB(W) light strips are controlled exclusively by the multi-zone RF remote via the controller.
Linking a Light to the Remote
1. Switch off the main power supply to the light.
2. Restore power and within 3 seconds, choosing one of the "Zone On" (|) buttons, depress the
button until the light begins flashing. It will flash white 2 times, indicating that the light is now
linked to that numbered zone and can be controlled via the remote.
Activating a Zone
To activate a specific zone, depress the "Zone On" (|) button. The zone is now active and remote
commands will only affect lights linked to that zone.
Unlinking a Light to the Remote
1. Determine which zone the light is linked to. This can be done by testing the Zone On/Off controls for each zone on the remote.
2. Switch off the main power supply to the light.
3. Restore power and within 3 seconds, depress one of the "Zone On" (|) buttons until the light flashes 10 times, indicating that the light has been unlinked.
An unlimited number of RGB(W) light strips can be linked to a zone. All the lights linked to that zone will display the commands entered on the wireless remote. Conversely, a single
RGB(W) light strip can be linked to multiple remotes. When the light is unlinkedv, it will be unlinked to all remotes.
Note: The wireless remote operates using radio frequency. The remote controller's use is not restricted by normal obstructions such as walls, doors, etc. Once programmed they can
be installed anywhere in range of the remote (up to 65 ft. or 20m).
Connection Diagram
Applications
Interior Decoration: Club, bar, corridor, room, hotel, led aquarium lighting, museum, christmas, holiday, Retail LED lighting etc.
Exterior Decoration: Plaza, commercial buildings, parks, scenic spot, evening location, Sign illumination LEDs etc
Safety
Supply voltage of this product is 12/24 Volts DC, do not exceed.
Shorting output wires my cause damage to dimmer.
Always observe proper polarity when connecting power and load.
For indoor use only - this product is not waterproof or weatherproof.
Note
QUICK and SLOW speed buttons will only work when unit is in one of the color changing (dynamic) modes.
Connect according to the Wiring Schematic drawing.
Controller can control a maximum of 30 meters of our Flexible RGBW LED Strip. Over 30 meters, the strips have to connect with an amplifier to reinforce the transmission of signal. Use one RGBW Amplifier for every 15 meters of additional LED Strips.
Do not exceed 80% of Power Supply capacity when calculating Power Supply size to use in your system.
Not suitable for automobile applications.
Package including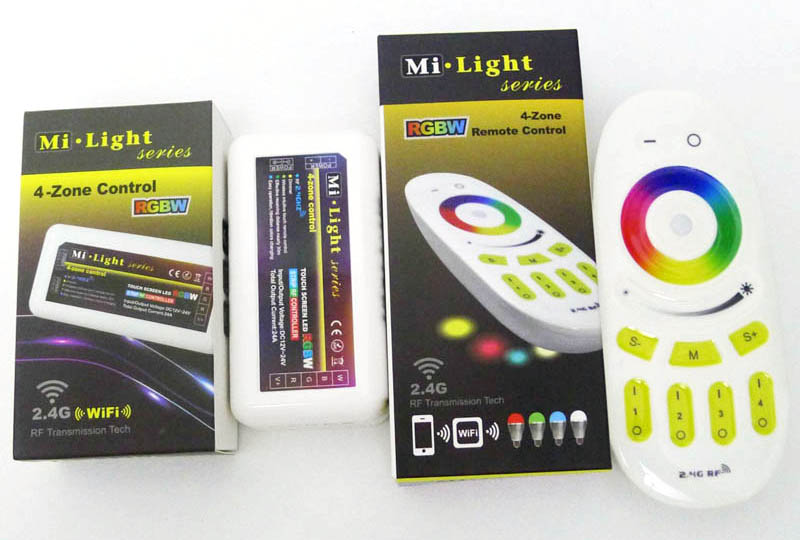 1 x 24A RGBW LED Controller
1 x RF Touch Remote Control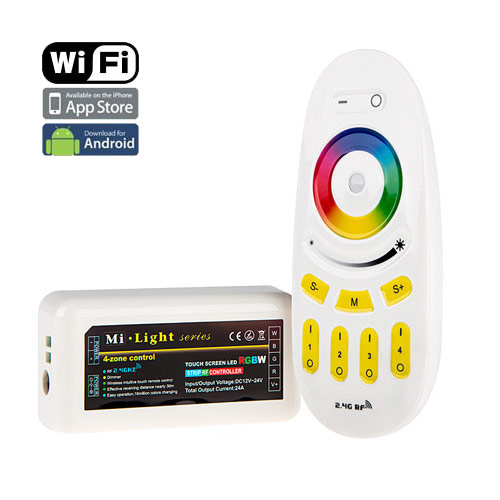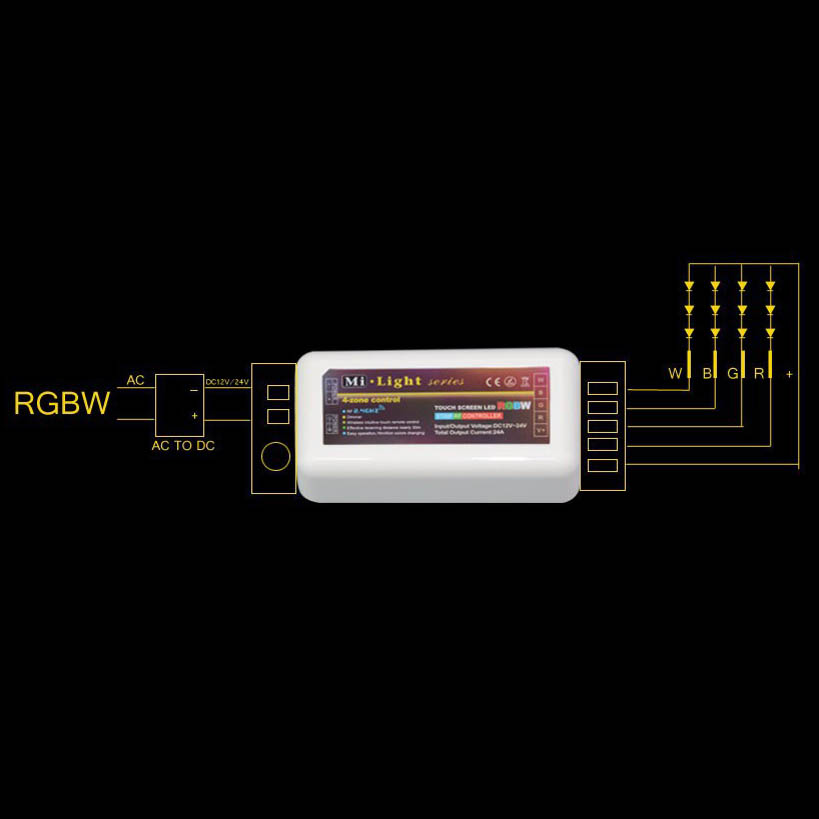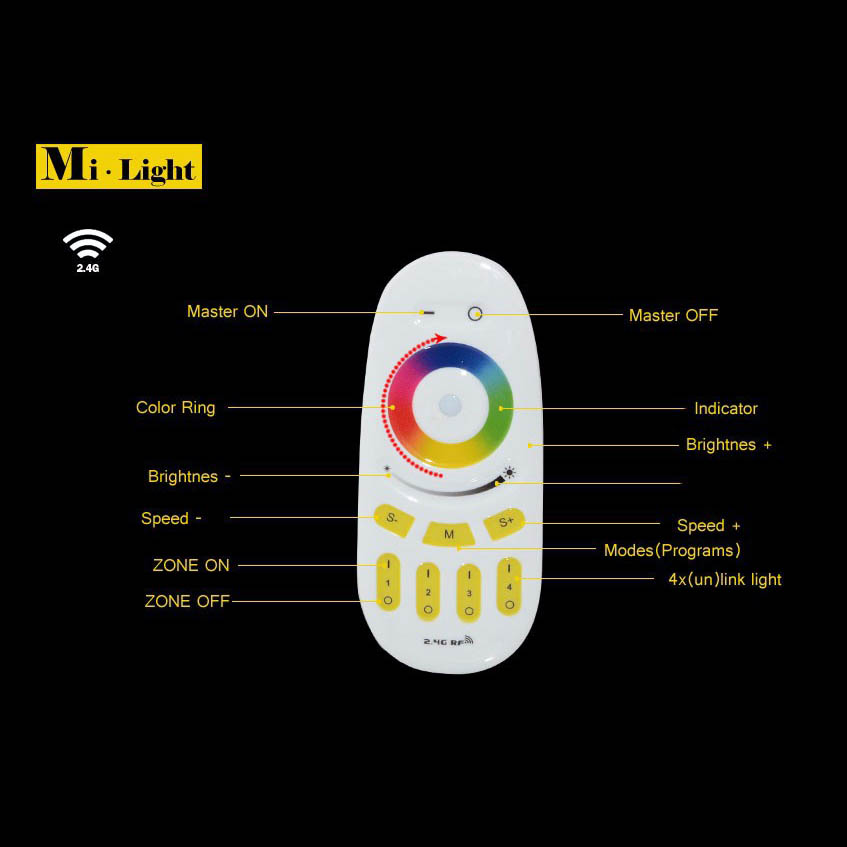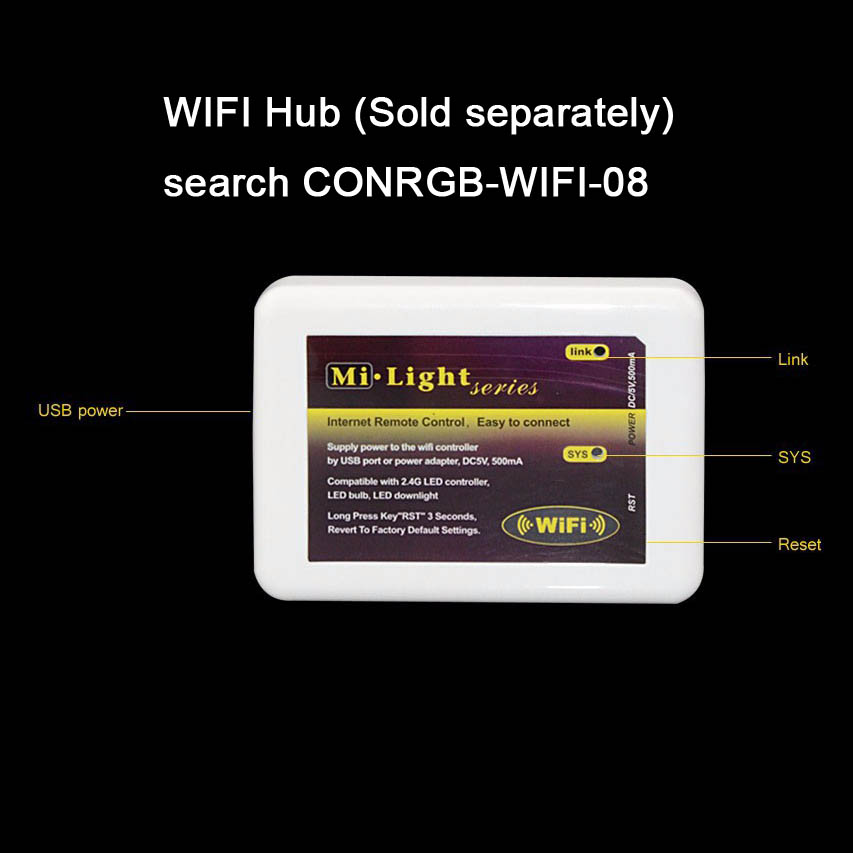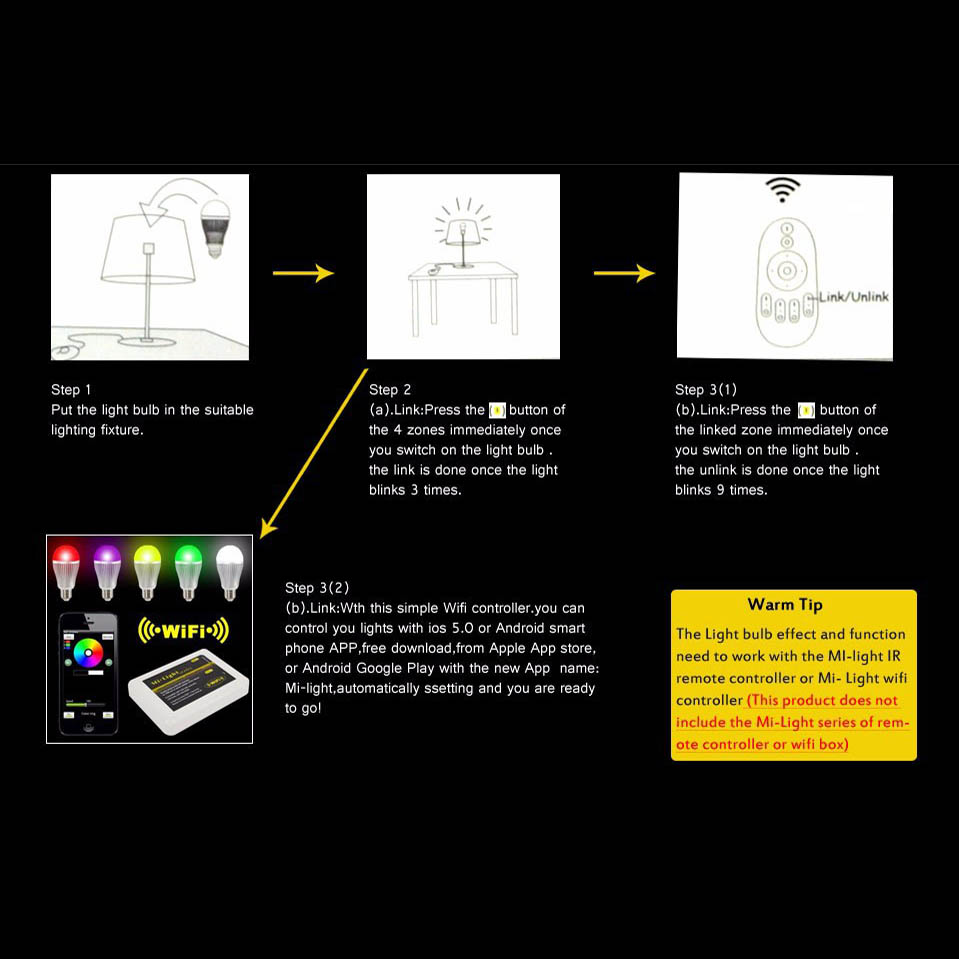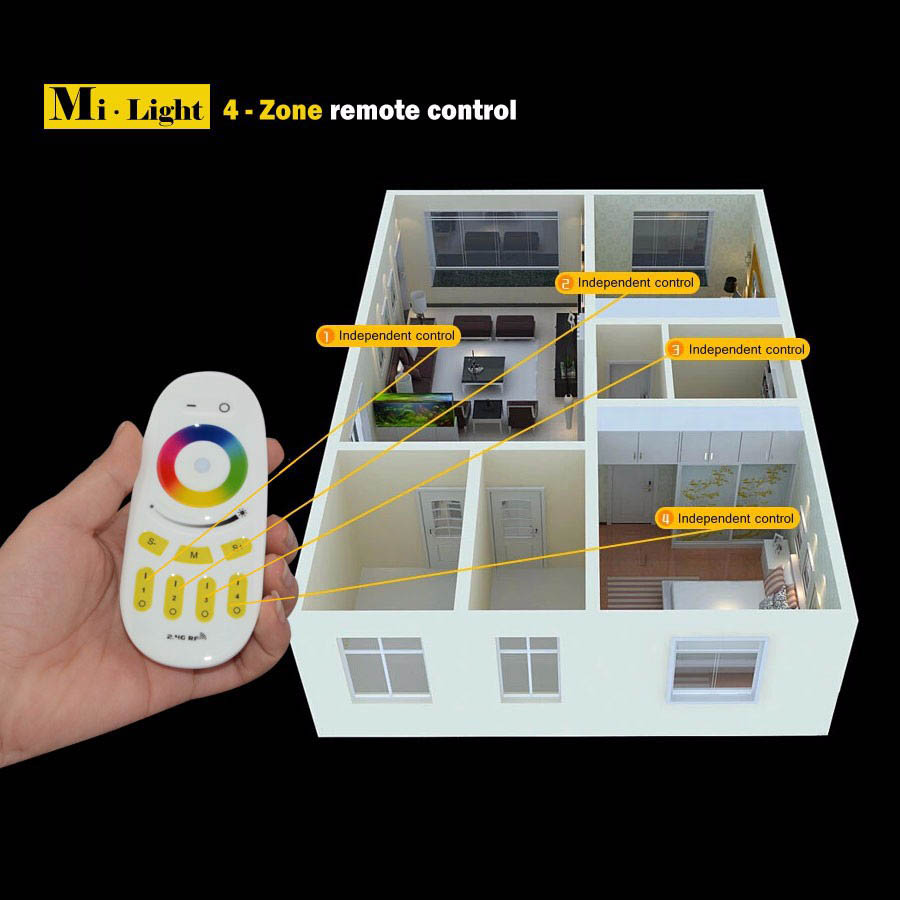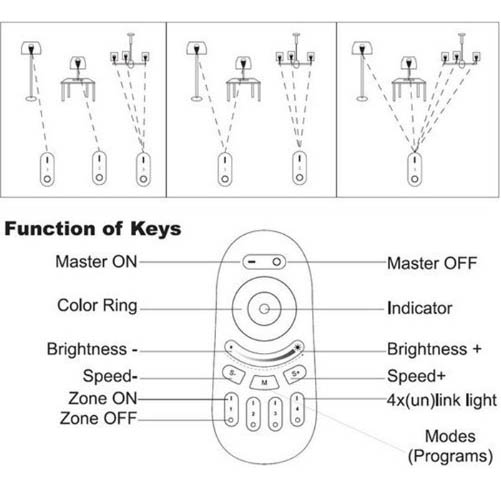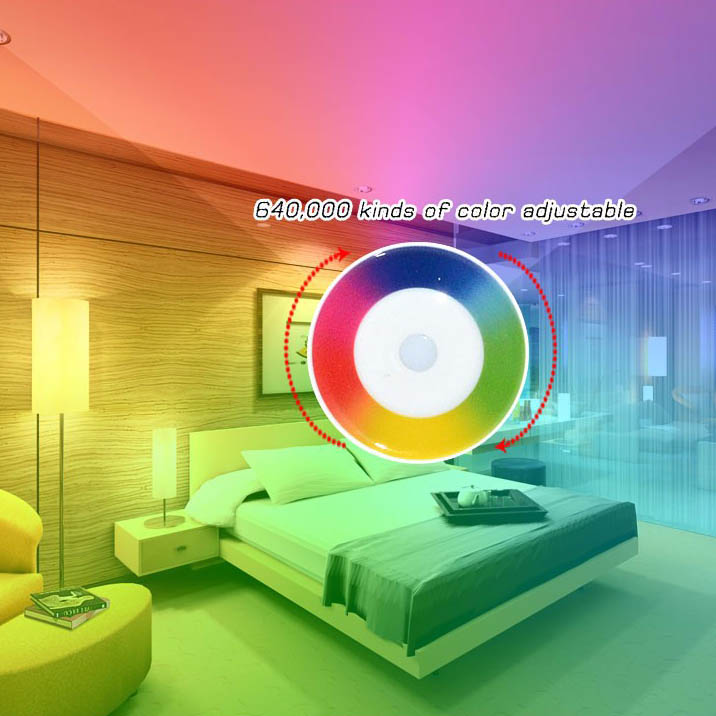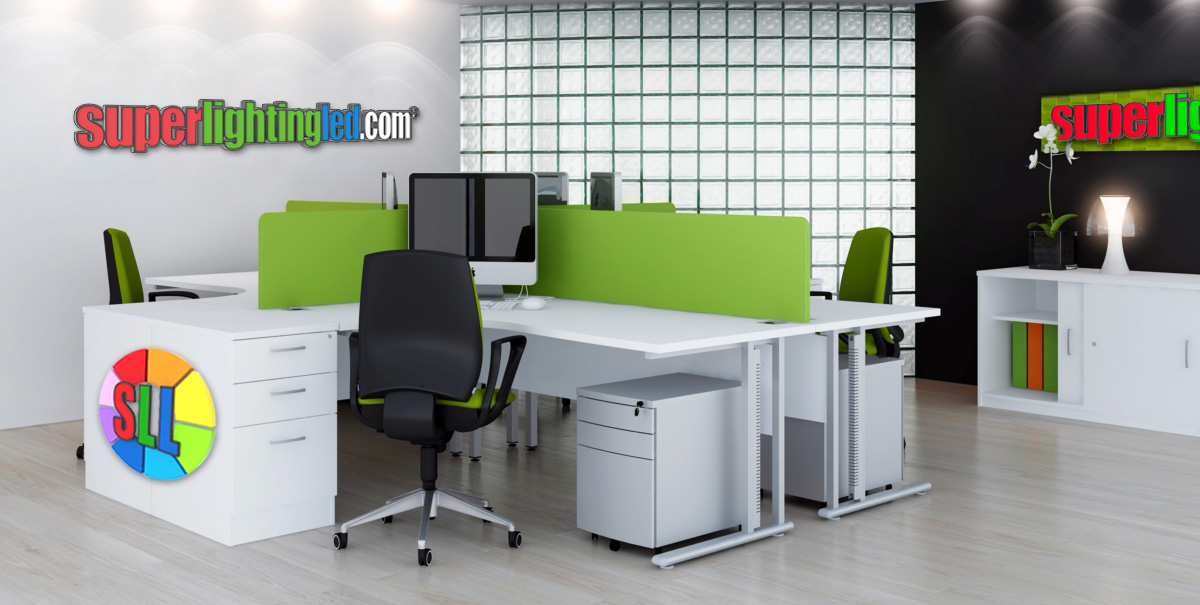 . Guided by a belief that LED lighting would be an integral part of everyday life's illumination, superlightingled.com came into LED industry and keep up with the advanced technoloty.
. We are committed to sales flexible single color,RGB, programmable pixel full color led strip and the accessories, LED controllers, dimmers, amplifiers, power supply are the main products.
.Superlightingleds.com founded in 2011, 5 years' development, our team is becoming stronger and stronger. we provide quality LED technology, great customer service, and superior technical support to our customers. superlightingled is your reliable partner for LED technology.
. If you are looking for high quality LED light Series or energy saving lighting solution, please do not hesitate to contact us, we are always more than happy to help in any way we can.at superlightingled offer LED Lighting for Everything.

Single Color Flexible LED Strip Lights Project Display

Color Change RGB Flexible LED Strip Lights Project Display

Programmable Pixel Dream Color Flexible LED Strip Lights Project Display