This RGB Signal Amplifier rated at 10A per channel. This unit allows an unlimited number of RGB products operating from either 5V 12v or 24v DC to be operated by one source of control and allows much longer runs of RGB flexible strip to be operated by one controller, removing the risk of the RGB strip being damaged by high current draw that can be present when operating long runs of RGB tape. This RGB amplifier applies to all the voltage-controlled LED controller in our company,it can receives PWM(Pulse Width Modulation), each time add one RGB amplifier, the connecting number of led will be more than twice, in theory, numerous RGB amplifiers can be connected.
Standards and Certifications







Poduct Specification
Type: RGB Amplifier
Standards And Certifications: CE/FCC/ROHS Compliant
Warranty: 3 years
Color: Black
Size: L110*W90*H25mm
Shell Type: Iron housing
Net Weight : 260g
Mode of Connection: common anode
Power Supply: DC5/12/24V
Input Type: RGB 3 channels
Output signal: CV PWM
Maximum Load Current: 10A X 3 channel (Max 30A)
Maximum Load Power: 5V/150W,12V/360W,24V/720W
Great for: LED 3528 5050 RGB strip or moudle
Direction for Use
According to the silk-screen prompts on the panel of RGB amplifier, to connect input and output signal wires in order to ensure short circuit can not occur between wires,and then connect power for RGB amplifier,and RGB amplifier goes hand in hand with LED controller.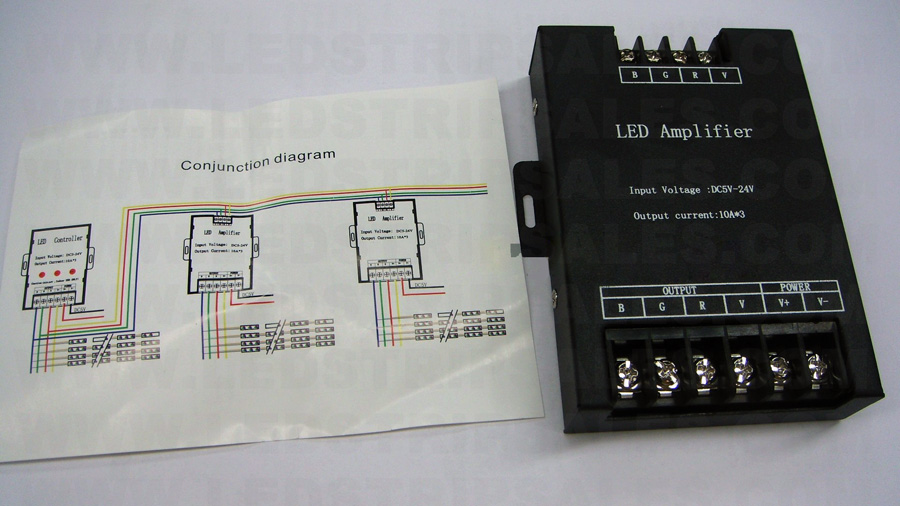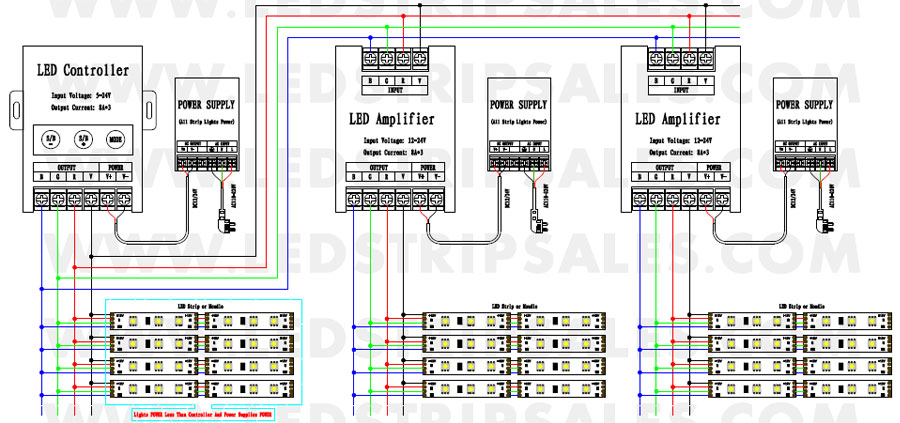 For occasions
1). All places where RGB light strips need to be extended when connecting.
2). All places where the quantity of RGB lights need to be increased.
3). All places where the color effects need to be changed as a whole in small scale.
Safety Information
1). Supply voltage of this product is 5~24 Volts DC, do not exceed.
2). Shorting output wires my cause damage to amplifier.
3). Always observe proper polarity when connecting power and load.
4). For indoor use only – this product is not waterproof or weatherproof.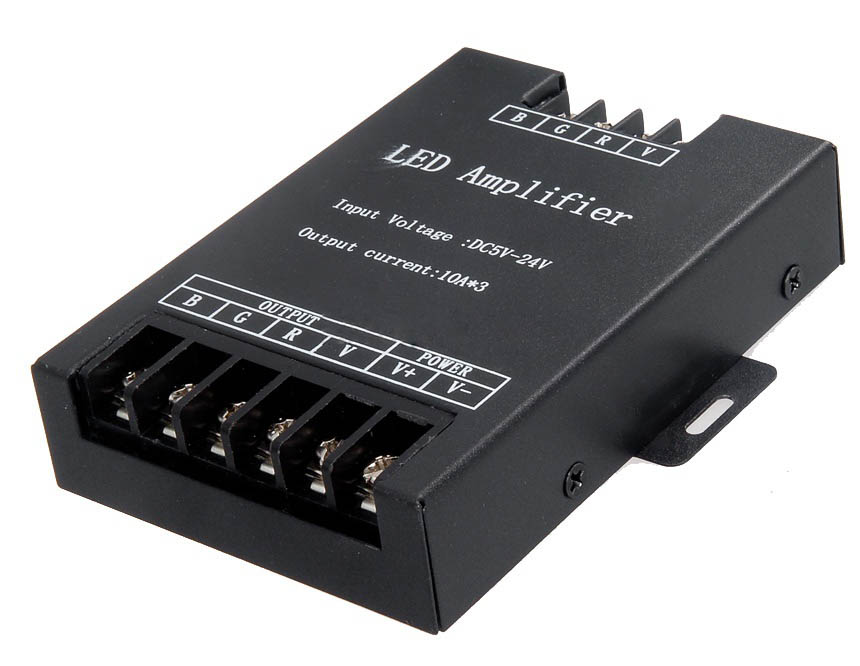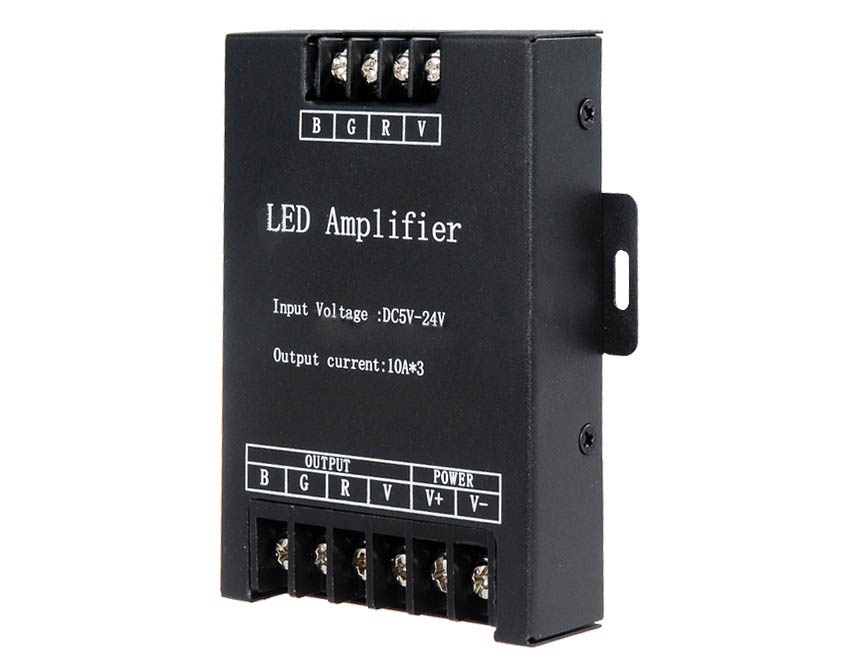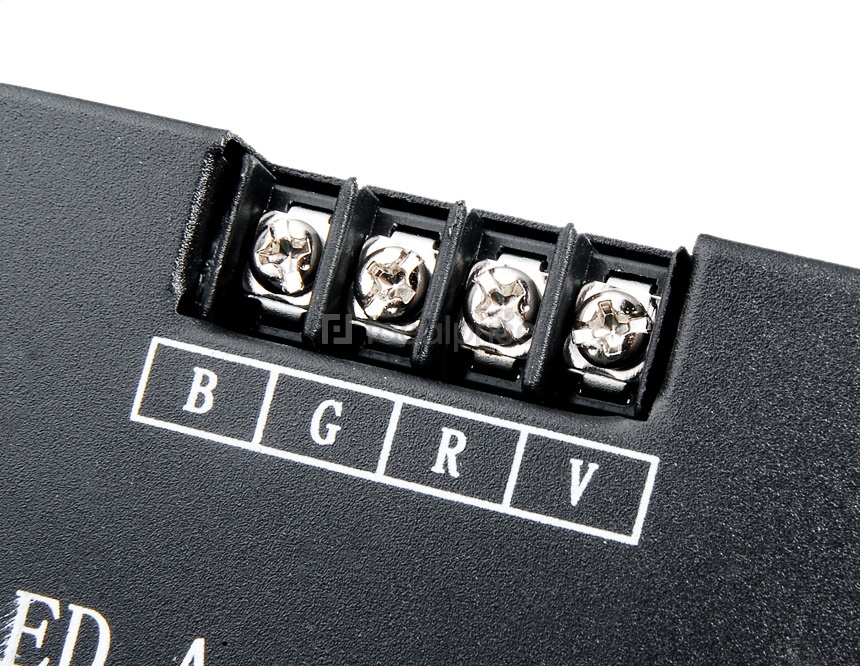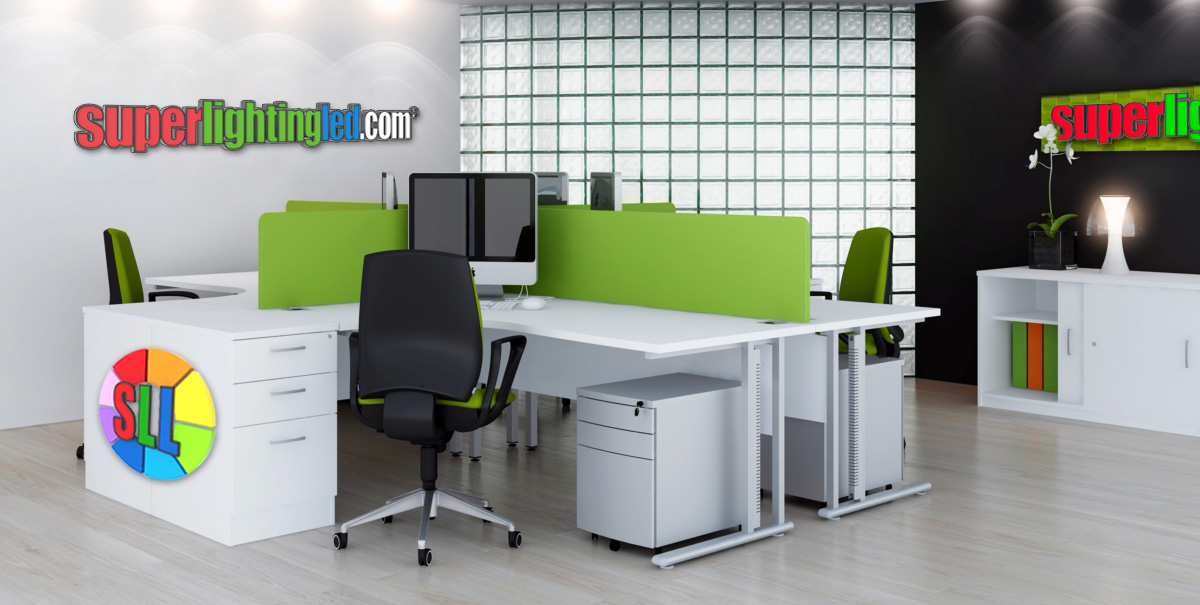 . Guided by a belief that LED lighting would be an integral part of everyday life's illumination, superlightingled.com came into LED industry and keep up with the advanced technoloty.
. We are committed to sales flexible single color,RGB, programmable pixel full color led strip and the accessories, LED controllers, dimmers, amplifiers, power supply are the main products.
.Superlightingleds.com founded in 2011, 5 years' development, our team is becoming stronger and stronger. we provide quality LED technology, great customer service, and superior technical support to our customers. superlightingled is your reliable partner for LED technology.
. If you are looking for high quality LED light Series or energy saving lighting solution, please do not hesitate to contact us, we are always more than happy to help in any way we can.at superlightingled offer LED Lighting for Everything.

Single Color Flexible LED Strip Lights Project Display

Color Change RGB Flexible LED Strip Lights Project Display

Programmable Pixel Dream Color Flexible LED Strip Lights Project Display