Item Type:RGB Controler
Voltage:220V
Certification:CE,RoHS,CCC
Connection Mode:GND-GND, CLK(D-)-CLK(D-), DAT(D+)-DAT(D+)
Power Source:AC
Controled Method:SD card
Remote Distance:none
Features:timetable controller
Warranty:1 year
Max. Load Power:10W
Model Number:H805SA
Applicable Lights:full color lights
Material:metal
Wattage:1
output ports number:8
drive pixels number:8192
H805SA has eight output ports, drives maximum 8192 pixels. Built-in timetable module,play effects by schedule.
2. Supported Driver Chips:
LPD6803, LPD8806, LPD6812, LPD6813, LPD1882, LPD1889, LPD1883, LPD1886, DMX512, HDMX, APA102, APA104, P9813, P9823, LD1510, LD1512, LD1530, LD1532, UCS6909, UCS6912, UCS1903, UCS1909, UCS1912, WS2801, WS2803, WS2811, WS2812, DZ2809, SM16716, TLS3001, TLS3002, TM1812, TM1809, TM1804, TM1803, TM1914, TM1926, TM1829, TM1906, INK1003, BS0825, BS0815, BS0901, LY6620, DM412, DM413, DM114, DM115, DM13C, DM134, DM135, DM136, 74HC595, 6B595, MBI6023, MBI6024, MBI5001, MBI5168, MBI5016, MBI5026, MBI5027, TB62726, TB62706, ST2221A, ST2221C, XLT5026, ZQL9712, ZQL9712HV, etc.
Note: H805SA can support more than the chips listed above(some chips have the same sequence diagram, for example: UCS512, WS2821 and DMX512 have the same protocol. UCS2903 has the same sequence diagram with UCS1903, so H805SA supports them all).
Auxiliary software is "LED Build Software".
3. Software and tutorial video download
LED Build download link: https://drive.google.com/open?id=0B1gzqyV6hfOgN2pkMV8yMFozYzQ
LED Build Tutorial Video: https://drive.google.com/open?id=0B1gzqyV6hfOgUnFjeG9EM3VRZjA
(1).Eight output ports, controls maximum 8192 pixels. Built-in timetable module,play effects by schedule.
(2).SD card supports FAT32, FAT16 format; the maximum capacity is 64G bytes.
(3).Support encryption by limiting the number of power-on time.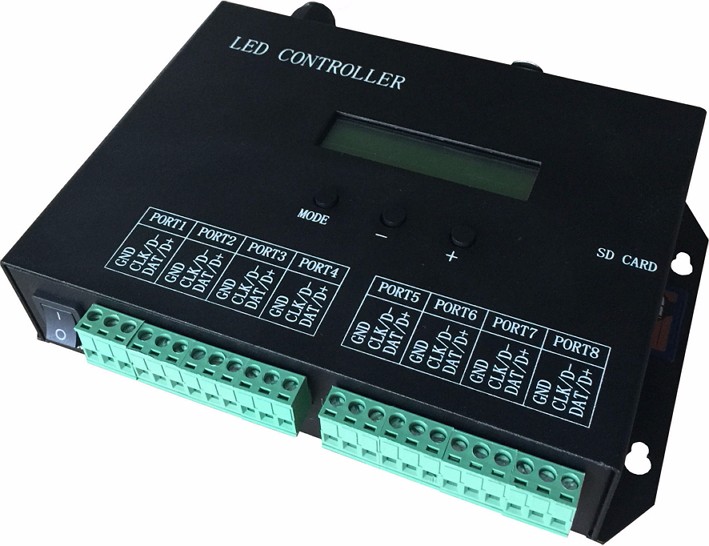 Built-in timetable module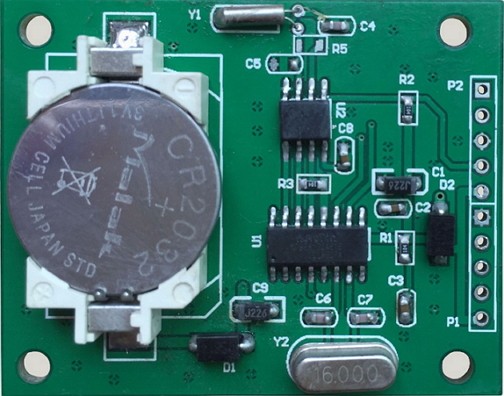 7. Wiring Diagram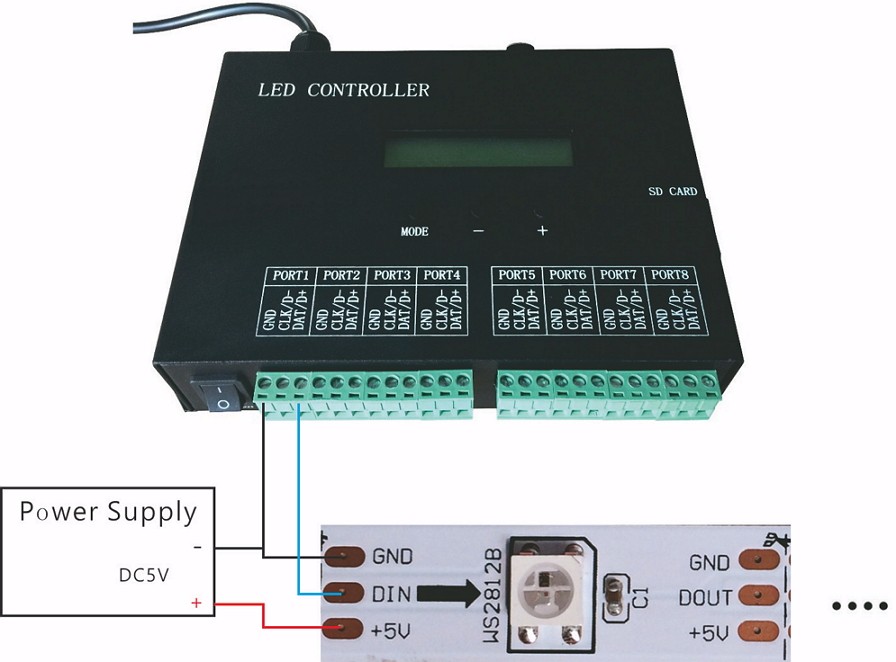 (1). For double-line chips, like APA102, connect GND, DIN to DAT, CIN to CLK. For DMX512, D- to CLK, D+ to DAT. H805SA also supports the four-line chips like 74HC595, please refer to the ports definition above.
(2). You can choose to connect 1 port, 2 ports..... or 8 ports. Pixels number of each port is advised less than 1000 in real project.
(3). You might need more than one power supply in your project, i just draw one for example.
8. LED Build Basic Working Procedure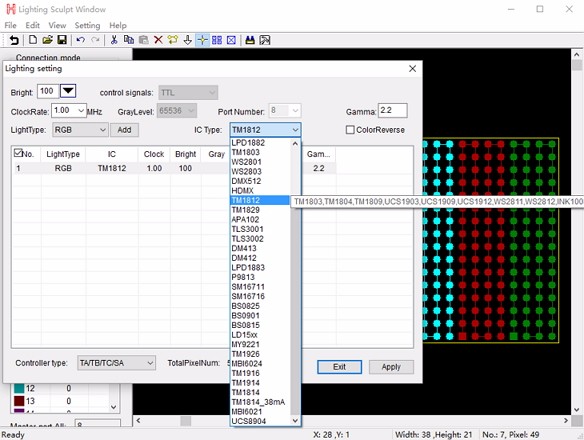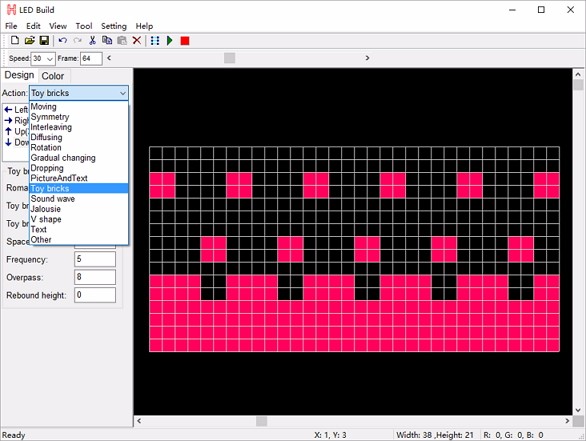 (4). Output Controller Data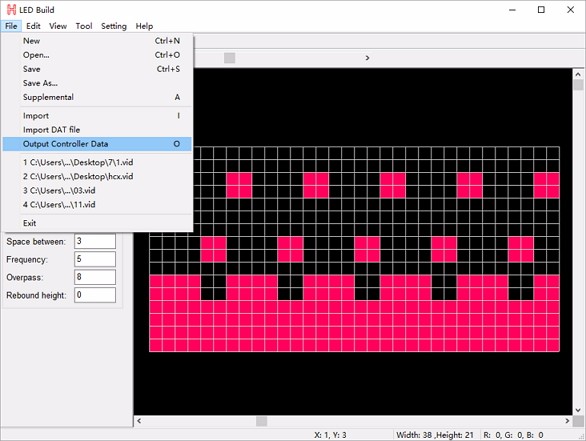 The format of the file is .dat, then copy this file to SD card.
9. Schedule Making procedure
(1). In LED Build main interface, click "Tool"--"Schedule".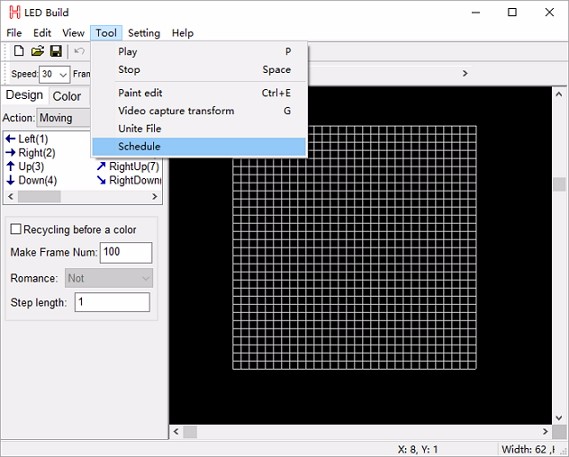 (2). Add schedule to timetable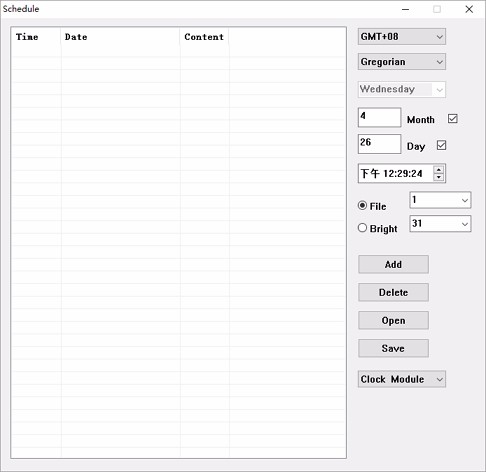 Controller can jump to specified time to execute specified program.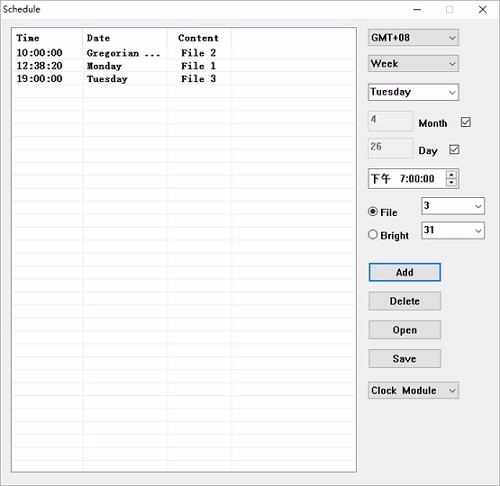 Input Voltage: Customized
Drive Pixels Number: 8192
Dimension: L189 x W123 x H40
Carton Size: L205 x W168 x H69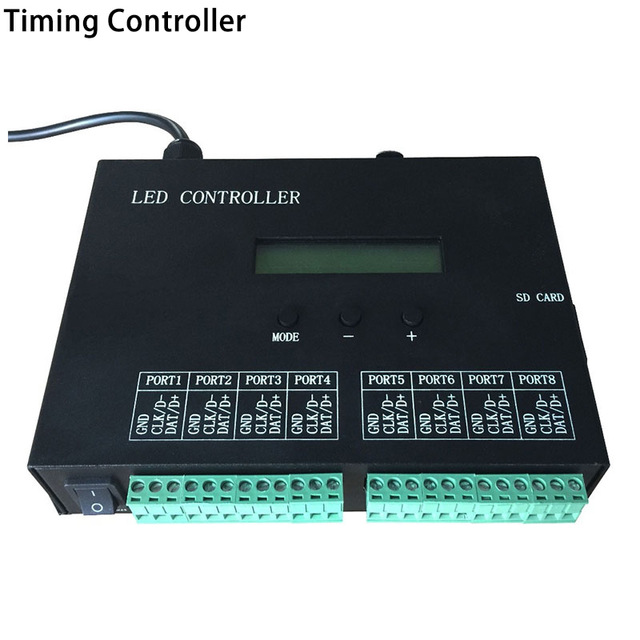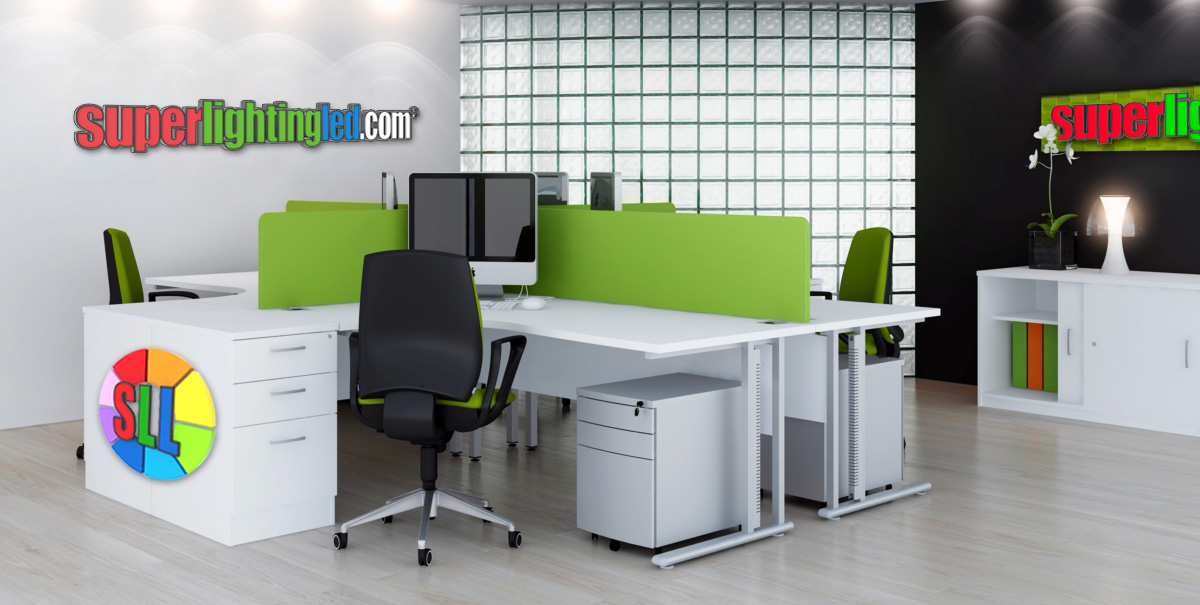 . Guided by a belief that LED lighting would be an integral part of everyday life's illumination, superlightingled.com came into LED industry and keep up with the advanced technoloty.
. We are committed to sales flexible single color,RGB, programmable pixel full color led strip and the accessories, LED controllers, dimmers, amplifiers, power supply are the main products.
.Superlightingleds.com founded in 2011, 5 years' development, our team is becoming stronger and stronger. we provide quality LED technology, great customer service, and superior technical support to our customers. superlightingled is your reliable partner for LED technology.
. If you are looking for high quality LED light Series or energy saving lighting solution, please do not hesitate to contact us, we are always more than happy to help in any way we can.at superlightingled offer LED Lighting for Everything.

Single Color Flexible LED Strip Lights Project Display

Color Change RGB Flexible LED Strip Lights Project Display

Programmable Pixel Dream Color Flexible LED Strip Lights Project Display